Identify the nudibranchs of Southern California and the Eastern Pacific with this full color, high resolution ID Card. Laminated and waterproof, perfect to take along on the dive boat. $9.95 + CA sales tax in state. Single card, two sided.
Second edition (March 2006). Species list and details below. 7 additional species of nudibranchs and opisthobranchs, up-to-date scientific names, addtitional common names, up to date with the latest edition of Eastern Pacific Nudibranchs by David W. Behrens & Alicia Hermosillo.
Sold out. I'll have more soon, please check back or send me an email and I'll contact you when the next batch is made.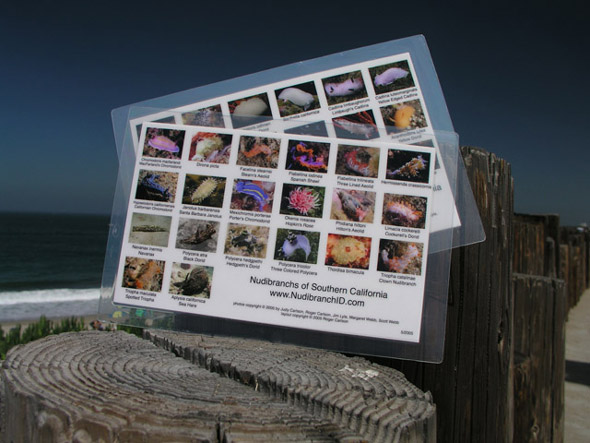 Our nudibranch links:
45 Nudibranch and Opisthobranch Species:
Acanthodoris hudsoni, Hudson's Dorid
Acanthodoris lutea, Yellow Dorid
Acanthodoris rhodoceras, Red Tipped Dorid
Aegires albopunctatus, White Spotted Dorid *
Ancula gibbosa, Humped Ancula *
Aplysia californica, Sea Hare *
Atagema alba, White Dorid *
Austraeolis stearnsi, Stearn's Aeolid, formerly Facelina stearnsi †
Berthella californica, California's Berthella ‡
Berthellina ilisima, Orange Blob *
Cadlina limbaughorum, Limbaugh's Cadlina
Cadlina luteomarginata, Yellow Edged Cadlina
Cadlina sparsa, Sprinkled Cadlina ‡
Chromodoris macfarlandi, MacFarland's Chromodorid
Cuthona divae, Dr. Diva's Cuthona ‡§
Dendrodoris behrensi, Dave's Dendrodoris †‡
Dendronotus diversicolor, Multicolored Dendronotus (mating, two color variations) ‡
Dendronotus sp.
Diaulula sandiegensis, San Diego Dorid
Dirona picta, Decorated Dirona ‡
Doriopsilla albopunctata, White Spotted Porostome
Doriopsilla spaldingi, George's Dorid *
Doris montereyensis, Monterey's Dorid, formerly Archidoris montereyensis †‡§
Doris odhneri, Odhner's Dorid
Flabellina iodinea, Spanish Shawl, mating, with eggs
Flabellina trilineata, Three Lined Aeolid
Hermissenda crassicornis, Hermissenda ‡
Hypselodoris californiensis, Californian Chromodorid
Janolus barbarensis, Santa Barbara Janolus §
Limacia cockerelli, Cockerell's Dorid
Mexichromis porterae, Porter's Chromodorid §
Navanax inermis, Navanax
Okenia rosacea, Hopkin's Rose
Peltodoris mullineri, Mulliner's Dorid ‡
Peltodoris nobilis, Sea Lemon §
Phidiana hiltoni, Hilton's Aeolid
Polycera atra, Black Dorid
Polycera hedgpethi, Hedgpeth's Dorid
Polycera tricolor, Three Colored Polycera ‡
Rictaxis puncocaelatus, Spotted Rictaxis *
Thordisa bimaculata, Two-spotted Thordisa ‡
Triopha catalinae, Clown Nudibranch
Triopha maculata, Spotted Triopha
Tritonia festiva, Festive Triton
Tylodina fungina, Mushroom Sidegill *
3 Nudibranch Wanna-bes:
Eupentacta quinquesemita, White Sea Cucumber
Eurylepta californica, Flatworm
Prostheceraeus bellostriatus, Flatworm
2nd Edition Changes:
* Species added
§ Improved Photo
† Scientific name changed
‡ Common name added
The species are sorted on the card alphabetically.
Photos by Judy Carlson, Roger Carlson, Jim Lyle, Margaret Webb, Scott Webb.
All photos copyrighted.